Packed with features the Aria Folding Electric Bike will help you reach your destination in comfort and style.
Light-weight just 15kg. 12.7 kg without battery.
Genuine branded LG Lithium Battery Cells
Estimated 20-50 km range with pedal assist mode
Includes $100 worth of extras: Front and rear mudguards, front & rear lights, stand, bell and tool-kit to help with assembly.
No license required, top speed of 25 km/h
36 Volt 250 Watts motor
Suits riders 5′ (152 cm) – 5'9″ (175 cm) (estimate).
Seat height measured from ground to top of seat: Minimum 74 cm, Maximum: 92.5 cm
Not sure which model is right for you? Read the quick guide.
Throttle can be connected to go 25km/h without pedalling. Not for use on public roads. Refer to manual
Weighing just 15kg makes transport easier than ever. Whether it's the boot of your car, your camper-van or your office, this ebike folds if needed to fit into tight spaces. The pedals fold too – a fantastic feature to save a few extra cm. Folded dimensions (60 cm high x 70 cm long x 40 cm wide).
Unique Leight-Weight Seat-Post Battery with LG Cells

The battery is the most precious part of any Ebike. Therefore it's important to use quality parts such as LG battery cells which last for years. This uniqe battery is concealed inside the seat-post reducing the weight of the bike to just 15 kg. Remove it in seconds and charge it wherever it suits you best, on or off the bike.
Wheel the bike after folding thanks to the fold-and-go system. The front and rear wheel lock together with magnets for increased stability while folded.
Arrive Clean – Every Time
This bike is a neat-freak so you don't have to be! Your beloved clothes are protected from dirt thanks to the front and rear mudguards and the chain guard on the front crank.
Don't feel like pedalling? Connect the throttle!
By default the thumb throttle is NOT connected so that you can ride the bike legally on public roads. Riding on private property and not on public roads? Connect the thumb throttle to go 25km/h without pedaling. Instructions provided.
The LCD Bike Computer displays your current speed, distance travelled, pedal assist level and Battery voltage. Switch on the backlight to illuminate the display. Save power: Auto-switch off if bike isn't used for several minutes.
Just The Right Amount Of Assistance
You hold the power at your fingertips – 5 levels of pedal assistance to adjust the motor power to your needs. Climb hills with ease and cruise along at up to 25 km/h – the 250W motor will do the work for you. Feel like getting some exercise? Put the setting to low or switch the power off altogether. Luxurios ergonomic handle-grips for increased comfort.
Front and Rear Disc Brakes – Arrive Safely

Stay in control with front and rear disc brakes and a safety feature which will shut the motor off while braking.
Front and rear lights will make you stand out for added safety in traffic.
Ride for hours on this sleek seat and still feel fresh. The adjustable handle-stem allows you to find your perfect riding position.
Charge the battery at any standard power socket with the included charger. No need to wait until the battery is empty; charge it any time. On the bike or off the bike. It takes about 4 hours for a full charge and less for a partial charge.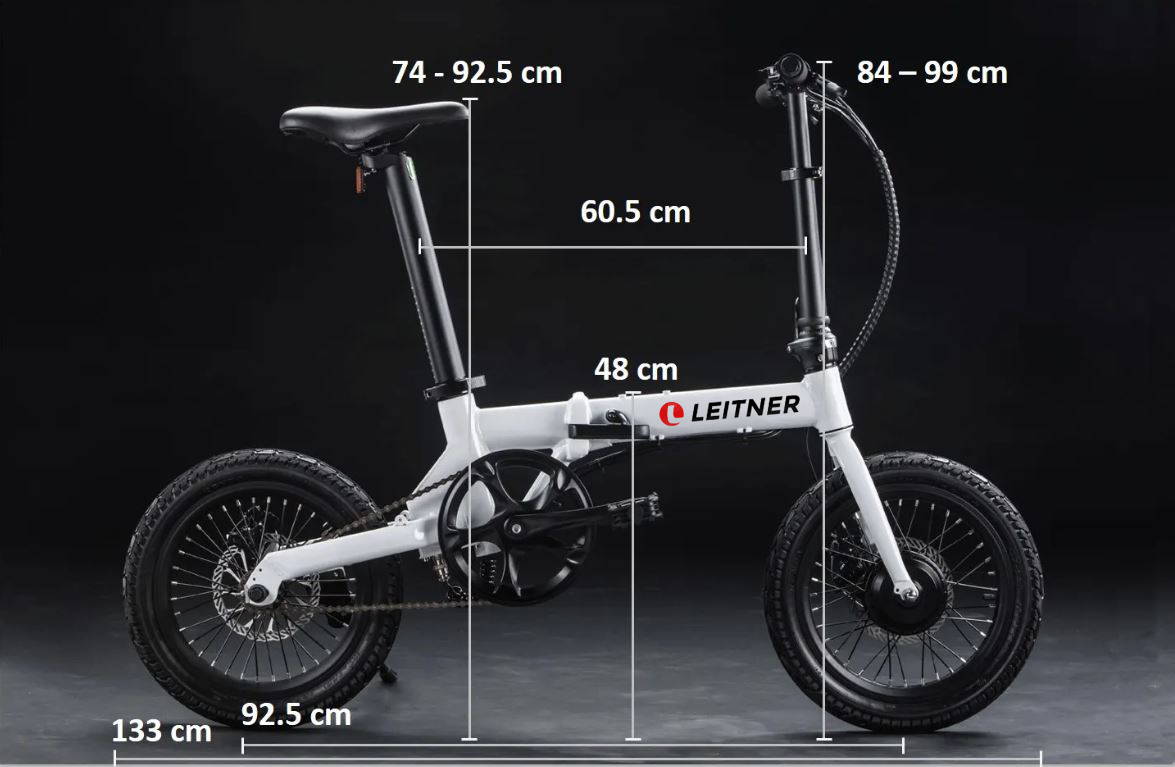 Detailed Technical Specifications
| | |
| --- | --- |
| | Light-weight front wheel hub brushless geared motor, 36V 250W. |
| | Aircraft-grade light-weight Aluminum Alloy 6061 |
| | Removable 36V 7Ah Lithium-ion battery with ICR18650 LG Battery Cells located inside the seat post. Removable in seconds. Only 2.3 kg including seat. Due to the bike's light-weight design and energy efficient technology the range estimate is 20-50km – comparable to the range of other ebike models which use a 10ah battery. |
| | Mechanical disc brakes by JAK, front and rear, 160mm rotor with safety switch to turn off motor while braking |
| | LCD display with 5 levels of pedal assist, startup button accelerates to 6 km/h (walking speed), speedometer, odometer and voltage display to estimate battery charge level. |
| | Front and rear lights powered by individual batteries. 4xAAA front light. |
| | Front and rear light, spoke mounted wheel reflectors (orange), pedal reflectors (orange) |
| | Light-weight Alloy. Folds to right side for easy storage. Adjustable height of handle-bar from ground to top of grips: 84 cm – 92.5 cm |
| | Straight so that it's not in your way when folded to the side of the bike. |
| | Single-speed 16 teeth at rear wheel |
| | 16″ tires, 2.125″ wide – with inner tube |
| | Aircraft-grade light-weight Aluminum Alloy 6061, rigid |
| | Can be purchased as add-on. |
| | 52 tooth sprocket, Alloy, 170mm PROWHEEL with Pedal Assist Speed Sensor |
| | |
| | |
| | Front and rear steel mudguards, black color. |
| | 15 kg with battery (excludes mudguards). 12.7 kg without battery and seat. Battery including seat 2.3 kg |
| | Maximum payload of 100 kg. This includes rider and luggage. |
| | 2A 36V charger – connect to standard wall power socket. ~ 4 hours charge time if battery completely empty. Quicker charge time if battery is not completely empty. Battery can be charged at any time – it does not have to be completely empty. |
| | Sleek light-weight comfort seat. The battery is concealed inside the seat-post and can be removed in seconds. |